One Direction have been criticised for launching their own range of make-up.
The heartthrobs once sang "don't need make-up to cover up" but have since revealed their own beauty products.
Educational psychologist Teresa Bliss, who helps children with their behaviour and learning, thinks it's a step too far.
She told Newsround: "A considerable amount of One Direction fans are children. Encouraging children to use make-up at a young age is not helpful."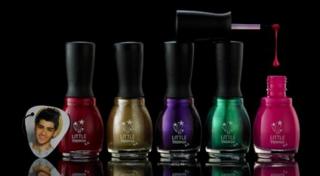 One Direction have already put their name to books, dolls, stationery and t-shirts - and are even planning to launch a perfume.
Teresa added: "Sadly I think One Direction just see this as a way to make more money. When they're on stage they won't notice if you're wearing their make-up".
One Direction have not yet responded to the criticism.
Your comments!
I love, love, love One Direction and I will hopefully be getting the new make-up range with my money that I have saved up. To be honest I would buy anything with One Direction's faces on it!
Rebekah, Chesterfield, England
People have to realise that not all One Direction fans are little! There are older fans like me who wear make-up anyway so being able to buy 1D make-up is great - but I think that only older fans should be able to buy it.
Ashley, Caerphilly, Wales
I love One Direction, but after saying in their song that you don't need make-up and then selling it, that's not right.
Yazmin, Guardamar, Spain
I love 1D and I wear a lot of make-up myself, not because I was encouraged but because I want to. If people want to wear make-up, let them! It's their choice. Now they can use make-up with their idols on - 1D are not forcing anyone to wear it!
Kyra, Derby, England
There are lots of fans of One Direction, but most of them are children and they are just using this make-up to make money. Could you tell the difference between a red nail polish and a One Direction red nail polish?
Susie, Antrim, Northern Ireland
Lots of celebrities have make-up brands with perfume and all that, so it's not a big deal. I think true Directioners stick by the boys no matter what, even if they don't have all their things.
Kirsty, Glasgow, Scotland
Did they sign an agreement saying they were purely musicians? No. They are great performers in my opinion but they also have to be skilled business men, like on this occasion. Of course it's for money. Everything people do is for money. That's life, if you don't like it then don't buy it.
Claudia, New Hampshire, USA
I understand that they are trying to make the money now as they won't be here forever - they might even end up splitting up like JLS did.
Holly, Widnes, England
Bands like 1D are looked upon as role-models, and are meant to influence lots of young children to do the right thing, however, releasing a new range of makeup will make girls waste there money on branded junk.
Anj, London, England
One Direction probably didn't really decide this - all their managers and marketers just wanted to make more money and spread their brand further. They obviously didn't think about the people that were actually going to buy it.
Mia, Newbury, England
Celebs have their own perfume so why not make up?
Isabel, London, England
I think it is a step too far because they're supposed to be musicians so releasing make-up has got nothing to do with their jobs, they're taking advantage of us fans so they can make more money! My mum doesn't let me wear make-up unless I am just playing around in the house so it would waste my money anyway.
Maya, Sheffield, England
I don't think they are encouraging children, it's their choice. They will be wearing it sooner or later, so why not now?
Zarah, England
One Direction are just trying to make more money! Lots of people in my class love 1D and they are too young to wear make-up. Nail varnish and lip gloss are OK but mascara and eyeliner is just going too far.
Lucy, Birmingham, England
I don't think it is a step too far. One Direction are amazing! And I love them so much!!!! They can do what they want, it's their lives and we should respect their ideas! I love the idea of their own make-up line! I love you One Direction!!!
Emma, Markethill, Northern Ireland
I love One Direction but as a band, not as make-up designers. I think maybe a couple of nail varnishes and maybe some perfume but that should be it. It may be putting across the message that girls have to wear make-up to be pretty or to like One Direction. Some girls may just buy the make-up because it says 1D on it.
Amaya, Bristol, England
Yes it is a step too far. You don't see The Wanted, Justin Bieber and Union J making nail varnish. It's just a another way to make money.
Heather, Inverkeithing, Scotland
Instead of opening a make-up line, why not open a charity or something... you know, something that actually influences the next generation to stop caring about their looks and more about one another.
Arbah, Manchester, England
If you don't want it, don't have it.
Emma, Farnborough, England
What? That's insane! One Direction are the biggest band on the planet! I love them along with a million other girls! Fans love this kind of stuff!
Lucy, London, England
I am forever a Directioner and so is my sister- it is definitely not a step too far and I cant wait to get it!
Kirsty, Scotland
I don't think One Direction have taken a step too far because people love them.
Samantha, Kilbirnie, Scotland
I think it is ok depending on the type of make-up it is. I think nail polish, lip gloss, lip stick or perfume is ok but things like mascara are not ok because it will make young girls want to wear it.
Ailsa, Glasgow, Scotland
I think that One Direction make-up is going way too far. 1D perfume was bad enough, but now make-up!? The idea is completely absurd! 1D are just getting greedy now with young girls' money.
Catherine, Glasgow, Scotland
I think that One Direction have gone slightly too far. My friends are BIG One Direction fans and once when we went out they spent their money JUST on the One Direction beauty products, and a couple of their posters. I only bought the nail varnish because my mum tells me that make-up is not for my age.
Ira, Newcastle, England
I LOVE 1D and I'm really excited about the range of make-up. I'm hoping to get some of it for my birthday and Christmas. Yes it may encourage younger children to wear make-up but they probably all want to wear makeup anyway.
Emily, Scotland
They have gone a step too far with every product they've done. They're already famous, they don't need to sell stupid stuff like make-up. They take advantage of their fans who will go out and buy all the things they are selling.
Ross, Oxford, England
If you want to sell your make-up do so, but remember it's your music not your products I enjoy. It's about the music not the money, right?
Roza, Blackpool, England
It is not a step too far. I think it's great that they have released their own brand of make-up.
Jessica, Middleton, England
The boys probably didn't have much to do with the make-up, it's all their management. If girls want to buy it then they can. It is their choice.
Heidi, Sheffield, England
One Direction are going too far. Everyone is crazy about them, but they really don't care and won't notice if anyone is even wearing their products.
Zoya, Stoke, England
I think that it's a silly idea because it makes the brand sound cheap.
Maya, Brighton, England
I like the idea of One Direction make-up but I think there should be a rule that only over-12s can buy it.
Aibrean, Tyrone, Northern Ireland
I think it's good for One Direction fans but it may be that they become unpopular soon and nobody will buy it.
Orla, Leeds, England
I love One Direction so much, but I do think that they are making a step a little too far. Most of the fans are children, such as me! So maybe later on in the future they could make a their own make-up when their fans have grown up.
Ruby, Cardiff, Wales
I think One Direction make-up is not a step too far. I'm sure lots of 1D fans out there want to have One Direction make-up.
Aimee, Antrim, Northern Ireland
Thanks for sending us your comments! This chat page is now closed.