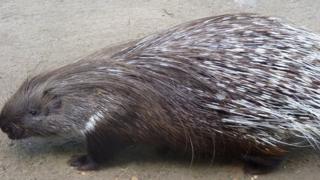 Two porcupines have escaped from an animal sanctuary in Penrith, Cumbria.
The prickly pair chewed their way out of an enclosure at Wetheriggs Animal Rescue and Conservation Centre.
Terry Bowes, who runs the centre, said the animals aren't aggressive but will "spike" people if they feel threatened.
The porcupines have spikes, called quills, which can be up to 30cm long.
Terry said: "They are nocturnal animals so chances of seeing them in the day is unlikely."
"Once it gets to dusk we will be out looking for them and we feel confident we will find them."