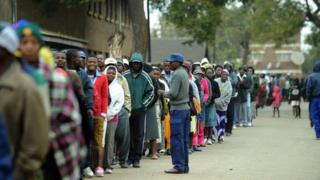 Zimbabwe election under way
An election is under way to choose the president of the troubled African country of Zimbabwe.
Long queues formed at polling stations on Wednesday and voting was extended by five hours to help people be heard.
The current President Robert Mugabe has been in power for 33 years; he and his big rival Morgan Tsvangirai are the two front runners in the race.
Mr Mugabe has said that he will step down from power if his party Zanu-PF loses the election.
In order to win an election a candidate must get more than 50% of the votes.
But critics are concerned that today's election may not produce a fair result, with some accusing Mr Mugabe of trying to fix the result - though he denies this.