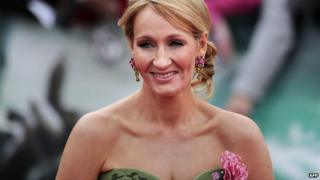 Harry Potter author JK Rowling has won a legal case against a law firm that revealed she had written a crime novel under a different name.
Earlier this month the Sunday Times newspaper reported she was the writer of the novel The Cuckoo's Calling, using the pen name Robert Galbraith.
A senior person at law firm Russells told a friend about Rowling's secret.
As a punishment Russells have agreed to pay money, which will be donated to The Soldiers' Charity.
The author said she was donating the money "partly as a thank you to the army people" who helped her with research for the book.
In court, Rowling's lawyer said that Chris Gossage, a partner at Russells, told a friend of his, Judith Callegari, that Rowling was the real author of The Cuckoo's Calling.
She then told a journalist the secret over Twitter.
Mr Gossage, Ms Callegari and Russells have all apologised and will pay JK Rowling back for her legal costs.