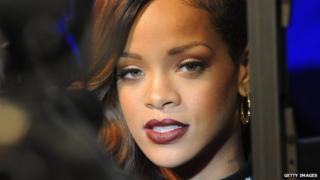 Rihanna has won a legal fight with Topshop, after the clothing giant used a photo of her on a top.
Rihanna's legal team said Topshop had tricked fans, who may have thought the shirt was an official Rihanna product.
Topshop used a photo taken whilst Rihanna was recording her music video for We Found Love in 2011.
The judge said although shops can sell T-shirts with famous faces on them, Topshop's T-shirt was too similar to Rihanna's album cover.
"I find that Topshop's sale of this T-shirt was an act of passing off", he said. This means he believed that a number of fans would have bought the T-shirt thinking it was an official Rihanna top.
Topshop said it was "disappointed" with the decision, saying "there was no intention" to try to trick buyers that it was an official Rihanna product.