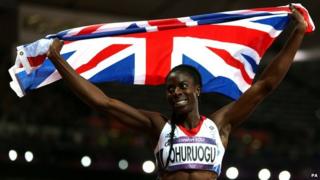 Christine Ohuruogu has been named Great Britain's captain for next month's Athletics World Championships in Moscow, Russia.
The 400m runner thought she was in trouble when she got the call about it!
Ohuruogu is a former world and Olympic champion, and she won the 400m at the Anniversary Games over the weekend.
The Londoner is hoping to be a role model for her younger sister Vicky, who's also an athlete and has been selected for the 4x400m relay team.
Ohuruogu was chosen to be captain by UK athletics performance director Neil Black.
She said: "I am very proud to have been asked by Neil to be the team captain.
"When he called me up the other week, I thought I was in trouble. I am not normally someone who likes the spotlight, but this is a lovely feeling to be trusted in this role."