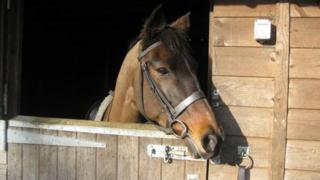 More horses being abandoned
More horses are being abandoned because their owners can't afford to look after them anymore.
The RSPCA says number of horses being dumped has gone up by 1,000 since October.
Some owners are so desperate they're selling their horses for £1.
"People just want to get rid of them. You're looking at £5,000 a year to care for that animal," said Cathy Hyde, RSPCA chief inspector.
"You need to provide a stable, you need to be able to put shoes on them or have their hooves trimmed, there's the feed - and vet bills."
Hyde added: "There's no legislation to stop anyone buying or selling an animal - a horse in particular."
Charities want more horses to be microchipped and stronger punishments for people who dump them.
Those who can afford to look after horses are being urged to visit their local rescue centre.