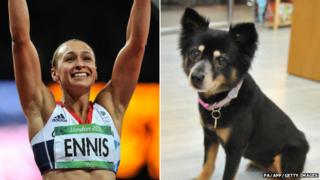 It appears the Olympics and Paralympics have not only inspired a generation, but they're inspiring our pet names!
Mo and Bradley are new entries in the top 100 cat names of 2013 - possibly because of runner Mo Farah and cyclist Bradley Wiggins.
Jess is now the 33rd most popular dog name - up 43 places - while Ellie has risen 17 places to number 41.
The boost for Jess and Ellie could be down to heptathlete Jessica Ennis-Hill and swimmer Ellie Simmonds.
The list was compiled by a pet insurance company.
We wanted to know the stories behind your pet's names - and you told us!
Your comments
My dog is named Boris after Boris Johnson.
Flossie, Haddenham, England
My cat is named after Bella from the Twilight as it is my favourite film and book.
Phoebe, Cambrige, England
My cat is named after Merlin the wizard because he keeps disappearing.
Emily, Milton Keynes, England
My cat is called Jiffy because we couldn't think of a normal name, my giant African land snails are called Speedy and Gonzalez after the mouse and my husky is called Hacker after Hacker the Dog.
Erin, Worcestershire, England
My two puppies are named Woody & Jessie after the characters in Toy Story.
Guy, Devon, England
My kitten is called Pumpkin because she was rescued on Halloween night.
Georgia, Leeds, England
We found a ferret and it had a name tag saying Poppy so then we got another ferret and we named it Daisy so their names are both flowers.
Chelsea, England
My rabbit's name is Bolt because he can run like Usain Bolt.
Martyn, Burnley, England
I named one of my cats Mario because he loves watching me play Mario Cart Wii!
Leia, Bedfordshire, England
I have two cats, one called Cleo and one called Petra; together you get Cleopetra just like Cleopatra the Egyptian Queen!
Emma, Chester, England
My dog is called Caline (French for cuddles) because she is so cuddly and has never ever bitten anyone. She is the sweetest pet that I have ever had!
Laura, London, England
My Bearded Dragon is named Toothless after the character in How to Train Your Dragon.
Abi, Kilmarnock, Scotland
My dog is called Bella because we found her in Italy and in Italy Bella means beauty so she is named after Beauty from Beauty and the Beast.
Maddy, Plymton, England
My cat is named Felicette after the first cat in space and my border collie is called Alan 'Shep' Sheppard after the American astronaut and the old Blue Peter dog Shep.
Agnes, Hebden Bridge, England
My goldfish is called Mr Gold because of all the gold medals that Team GB earned in the Olympics!
Emma, Newark, England
My hamster is named after Ringo Starr from the Beatles.
Bob, London, England
I named my pet Stamford after Stamford the Lion - Chelsea's mascot. His fur looks like a lion's.
Noah, Bromley, England
I have a pet snake called Venus after the planet because he's a red rusted colour like the planet.
Joe, Blandford, England
My hamster is named after my hometown, so it's called Bristol!!
Stanley, Bristol, England
I named my dog after Jessica Ennis-Hill and called it Jess.
Molly, London, England