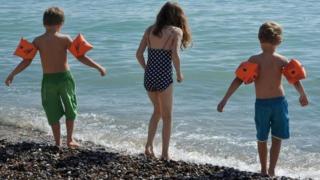 Beach safety lessons for kids
A summer scheme offering beach safety lessons to kids has been launched.
Swim Safe aims to show children aged seven to 14 the important differences between swimming in an indoor pool and in the sea.
Other things taught include how to shout for help and how to swim with your clothes on.
The free trial scheme is running until 30 August at Bude Sea Pool in Cornwall - and if it's successful it could be rolled out to other places.
It's being run by the ASA, who are in charge of swimming in England, and the RNLI (Royal National Lifeboat Institution).
Every year, around two-thirds of incidents that RNLI lifeguards respond to involve children.
Ross Macleod, RNLI Coastal Safety Manager, said: "The aim of the Swim Safe programme is to improve children's swimming abilities and their confidence in the sea, which is a very different environment to a pool.
"We'll also be helping them understand how they can keep safe at the seaside. We're hoping this programme will equip children with valuable knowledge and skills so they can have fun but stay safe in and around the sea."