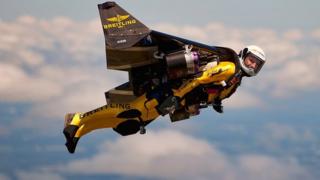 'Jetman' shows off flying jet suit
Move over Superman - meet the 'Jetman'!
Yves Rossy from Switzerland has been showing off this super amazing jet suit that he's built.
It has four engines which can propel him to speeds of 190 miles per hour - and soar to heights of 12,000 feet!
The Jetman and his jet suit are appearing at an air show in America this week - his first flight in public across the pond.
He says he hopes to inspire people with his flight.
Rossy's previous stunts include flying over the Grand Canyon and Rio de Janiero in Brazil.