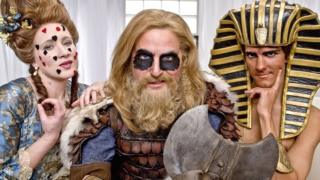 Tracy Beaker, Horrible Histories and Blue Peter - are any of them your favourite TV show?
Radio Times Magazine has made a list of the 20 greatest kids' shows ever.
Included on the list are golden oldies like Thunderbirds, and more recent hits like The Sarah Jane Adventures and Peppa Pig.
But some of your favourite shows (like Newsround- we know!) are missing from the list - so we want to hear what your favourite children's show is.
What's your favourite kids' TV show - and why?
We asked you what your favourite kids' TV show was, and why...
Your comments
I like The Story of Tracy Beaker because it teaches you right and wrong.
Adam, Derby, England
I love all of the CBBC programmes, they're great!
Emily, London, England
I think Young Dracula and Wolfblood are brilliant dramas. I also enjoy inspiring programmes such as Wild and Blue Peter.
Ella, Chesham, England
My favourite kids' TV show is Junior Vets because I love animals and I want to be a vet when I'm older and Wolfblood because I love the characters. I can't wait for the next series of these shows!
Samira, London, England
I love Newsround! As I am into news, I think Newsround is the best. I want to be one of the presenters when I grow up!
Sarah, Bradford, England
My all-time favourite shows on CBBC would have to be Tracy Beaker, Tracy Beaker Returns and The Dumping Ground! There is so much drama happening there all the time!
Hannah, Cheshire, England
My favourite kids' TV show is Ultimate Sports Day because it inspires kids around the country to take up sports.
Martha, Northampton, England
My favourite TV show is Junior Bake Off because I love baking and I want to apply next year!
Isobel, Nottingham, England
I like Adventure Time! I like it because Finn and Jake are really funny characters. It is very funny and I think it should be in the top 20 of the greatest kids' TV shows.
Eve, London, United Kingdom
My favourite kids' TV show is Friday Download, because it's interesting and it's a great show for entertainment on a Friday for kids. Also Newsround is the most interesting and least boring news and lets kids get involved and have their say on specific topics!
Kareena, Coventry, England
Newsround is the best! I think it is really important for kids to know what is happening around the world and Newsround does that!
Erin, Glasgow, Scotland
Horrible Histories has to be the best! It teaches kids loads of fun facts that probably a lot of the nation wouldn't know about otherwise. It is funny and gets a lot of viewers in. A great show for anyone who needs cheering up!
Katie, Warwickshire, England
My favourite kids show is Sarah Jane because it's adventurous, scary and fun to watch.
Abu, London, England
Blue Peter because it is interesting and exciting. There are lots of different parts to it so you don't get bored. There are also lots of things to do and make, and ways to get involved away from the TV.
Sarah, Poole, England
My favourite TV show is Scooby-Doo! Mystery Incorporated because you never know who the monster is!
Josie, Wokingham, England
My favourite TV shows are M.I. High, Horrible Histories, Cop School and Newsround! I like M.I. High because the story is interesting, Horrible Histories as it teaches history in a way that you will remember, Cop School is one of my favourites because it shows how the police force works, and Newsround because through it you learn what's happening in the world.
Ameerah, Glasgow, Scotland
My favourite kids TV show is Violetta on Disney Channel because it really gets you emotional because Violetta finds true love and her passion for music but obstacles stand in her way. It really captures your heart.
Hafsah, West Bromwich, England
I LOVE Horrible Histories because it teaches you history in a fun and gory way.
Lucy, Birmingham, England
My favourite kids' TV show is 12 Again because I love knowing what celebrities were like when they were 12.
Daisy, London, England
Splatalot is my favourite show because it is fun when Dom gets a pie in his face.
Annabelle, Enniscorthy, Ireland
My favourite children's TV shows are Newsround and Blue Peter because when I'm older I want to be a presenter on one of them (that would be EPIC!!!).
Lesziah, London, England
My favourite TV shows are Deadly 60 and Horrible Histories. I like Horrible Histories because I used to find history boring, but when I started watching Horrible Histories, I got intrigued by history. I also like Deadly 60 because I love animals and like to find out all the interesting facts about the deadly animals.
Cayden, Eastbourne, England
I'm from Holland and I really love Wolfblood and Young Dracula because they are really creepy and cool!
Els, The Netherlands
My favourite TV show is Wolfblood because wolves are my fave animal and Wolfblood is really exciting.
Annabel, Scarborough, England
Spongebob Squarepants is the best because of the funny adventures he gets up to!
Max, Chatham, England
My fave TV programme is Wolfblood because I think they have played very well with the legends and have used very good animations and actors. I wish I could be in it.
Tamsin, Gunnislake, England
My friends and I love Friday Download, but I don't really think it has been noticed much! I like Blue Peter too and as it's been on TV for 50 or so years, it definitely has a better chance than Friday Download!
Anya, Norwich, England
I just love Blue Peter because it's all about going out and having fun. Also I love Newsround because it shows us what's going around the world and I think it's important for kids to know what is going on around the world.
Afra, London, England
My favourite kids' TV show is Sam and Mark's Big Friday Wind-up because it gets you in the mood for the weekend!
Ellie, West Midlands, England
My fave kids' show is Horrible Histories because it is fun to watch and also you are learning facts at the same time.
Alana, Dublin, Ireland
This is a hard question. But in the end it is My Parents Are Aliens. I love it because you can watch each episode hundreds of times and never stop laughing at the jokes and each time you watch the episode you can pick out more funny details.
Madeleine, Wales
My favourite TV show is Show Me What You're Made Of! Stacey is great with the kids she travels with. Indonesia sounds great fun but lots of work! Can't wait for next series.
Emily, Bedfordshire, England
I love Arthur because it is very fun to watch and relaxing to watch at breakfast time. I like Dani's Castle because it is funny and makes me laugh. I also like Newsround because it's short and interesting but I'd like it to be shown after every 2 programmes.
Astrid, Leicester, England
Newsround is the best kids' show and I am shocked it didn't make it onto the list!
Olivia, Northern Ireland