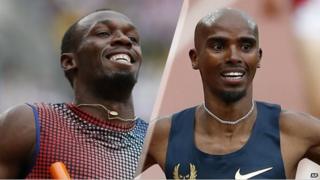 AP
Mo Farah has challenged Usain Bolt to a race - but who would win?
Farah usually runs long distances over 5,000m while Bolt competes in the 100m and 200m sprints.
Bolt has already said that 1,500m would be too far.
He told Sky News: "It's way too far... 600 for sure I can try because I've done 600m in training."
So which athlete would have the upper hand (or foot)?
"Mo Farah's really smart, he knows that he will win over 600 metres," thinks Professor Neil Fowler, Head of Exercise & Sport Science at Manchester Metropolitan University.
He told Newsround: "At that distance it's an aerobic event... top speed won't matter."
The difference lies in how efficiently the leg muscles can produce energy from oxygen, which becomes more important in distances over 400m.
"Sprinting is really simple as an activity. You want to get up to maximum speed as quickly as you can and then run as fast as you can through the line," explained Prof Fowler.
"Long distance athletes are more interested in their ability to keep going. They've got to be able to move fast but they've got to be able to keep going."
So the winner of the star-studded race?
"Every day of the week Mo Farah would win that race over 600m," says Prof Fowler.
"At 400m, Bolt will be 20m in front. By 600m he'll be gasping, he'll be bent on his knees and spent."