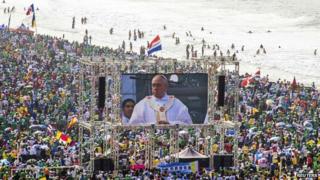 Pope Francis has celebrated Mass on Copacabana Beach in Brazil, with an estimated crowd of more than three million people.
The Pope was closing World Youth Day - one of the biggest Roman Catholic youth festivals.
Many people had slept on the beach after an all-night vigil, also led by the Pope.
Pope Francis flew back home to the Vatican late on Sunday.
It's his first foreign trip since becoming head of the Catholic church in March.