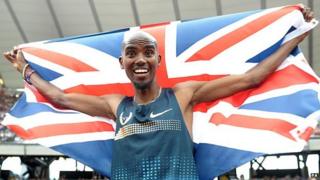 Mo Farah has cruised to victory in the 3,000m at the Anniversary Games in London's Olympic Stadium.
The Olympic 5,000m and 10,000m champion ran a personal best of seven minutes 36.85 seconds on Saturday.
"This is where I love to run and last year at the Olympics was a really big year for me," Farah said.
"This is where I made my name. Each time I race I want to make my country proud. I am honoured to represent my country."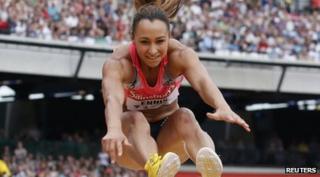 Olympic heptathlon champion Jessica Ennis-Hill, who's been suffering with an ankle injury, competed in the 100m hurdles and long jump.
She was fourth in the hurdles in 13.08 seconds and last out of eight in the long jump, which was won by another British heptathlete, Katarina Johnson-Thompson.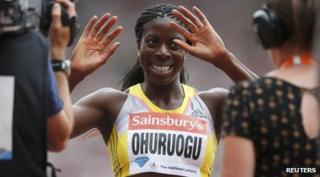 Britain's Christine Ohuruogu won the 400m - in 50 seconds exactly!
After his 100m victory on Friday, Usain Bolt was on winning form again - this time for Jamaica in the men's 4x100m relay.
The Anniversary Games is a three-day athletics event from Friday to Sunday, marking one year on from the opening ceremony of the London 2012 Olympics.
It's also a good fitness test ahead of the next month's World Championships in Moscow, Russia.
On Sunday, it's the turn of Paralympic athletes - including Jonnie Peacock and David Weir - to return to the Olympic Stadium.
What's your highlight?
We want to know what's been your highlight of the Anniversary Games so far.
Perhaps it was Usain Bolt's 'rocket ship', or watching Mo winning once more? Maybe you enjoyed the GB women's impressive 4x100m relay victory - or something else?
How does it feel seeing sports stars back inside the Olympic Stadium again?
This chat page is now closed but you can read some of the comments below.
Your comments
I feel proud of the GB team. My highlights were Katarina Johnson-Thompson winning long jump and Jessica Ennis-Hill for taking part even with an injury.
Alicia, Blackburn, England
I really enjoyed watching Luke Cutts on pole vault, because I compete in junior pole vault and he's a huge inspiration for me.
Tyra, Sheffield, England
I loved watching all of the athletes trying their best. I particularly liked watching Jessica Ennis-Hill as she competed even though she was injured. All of the athletes are so determined. :)
Lucy, Eastbourne, England
There were three big wows for me. Usain Bolt in the 4x100m, Mo Farah in the 3,000m and Jessica Ennis-Hill in the hurdles even though she came fourth. She was against some hard competition. I know what it is like being an athlete, I started athletics at my local club just over a month ago and I had a competition straight away (I came fourth in 100m). It was hard.
Jennifer, Crewe, England
My highlight was the sheer excitement I still felt after the Games. I still get goose bumps after seeing Mo Farah storming round the track, Usain Bolt whizzing round the bend and Katarina Johnson-Thompson leaping to victory.
Anna, Co Down, Northern Ireland
When Mo Farah won the 3,000m!
Amber, Somerset, England
I think the highlight was Usain Bolt in the 100m. I am going to watch the third day, Paralympic athletics. I am so excited.
Whitney, York, England
I loved watching the men's pole vault. They jumped so high!!
Meagan, Farnham, England
My favourite part of the Anniversary Games has been watching all the British athletes taking part and trying their hardest. I think that was what the Olympics was all about last year. I especially enjoyed watching Mo Farah and Jess Ennis-Hill compete. This will also be remembered as well as the Olympics. :)
Felix, Canterbury, England
My highlight was when I saw Usain Bolt race to victory. As always, he makes it look so easy. Spectacular!
Omar, Perth, Scotland
My favourite highlight was when Usain Bolt finished the 4x100m relay... I was there!!!!!
Rebecca, Chalfont St Peter, England
I had two highlights of the Anniversary Games - Usain Bolt flying to victory, but well done Jessica Ennis for coming fourth with your good try.
Nathan, St Albans, England
I think my highlight was when Mo Farah won the 3,000m. He practically cruised to victory. It was a great run!
Sofia, Surrey, England