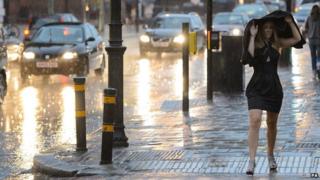 Heavy rain and thunderstorms have hit parts of the country this weekend.
Downpours caused sudden flooding in south-east England and the Midlands on Saturday - and the wet weather is set to move north on Sunday.
There was more than 60mm of rain in some areas on Saturday evening. The average rainfall for the whole of July is 78mm!
The Met Office has issued amber "be prepared" warnings for the Midlands and north of England.
An amber warning tells people to be prepared for the risk of disruption and surface water flooding.
There was severe flooding in Nottinghamshire on Tuesday night due to heavy storms.