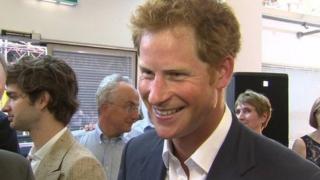 Prince Harry wants nephew to 'have fun'
Prince Harry has said one of his duties as an uncle to his new nephew Prince George is "to make sure he has fun".
At an event in London last night he said it was "fantastic to have another addition to the family", but that the newborn "was crying his eyes out" when he met him.
When asked what his aim was as an uncle to Prince George, he said: "To make sure he has a good upbringing, and keep him out of harm's way and to make sure he has fun."
Prince Harry, the younger brother of the Duke of Cambridge, also joked: "I only hope my brother knows how expensive my babysitting charges are."
With the birth of Prince George, Prince Harry has become an uncle for the first time.