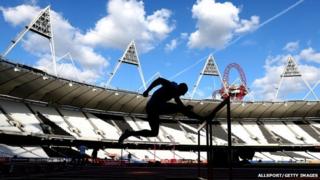 The Olympic Stadium in London is once again preparing for cheering crowds as the Anniversary Games kick off on Friday.
The event marks one year since the opening ceremony of London 2012.
The three-day meeting is on between 26-28 July and will see stars like Jessica Ennis-Hill and Mo Farah return to where they achieved Olympic glory.
Will you be watch the Anniversary Games? Who are you most looking forward to seeing?
Tune in to Newsround on Friday afternoon to see Leah reporting from inside the Olympic Stadium!
Your comments
I think it's a great idea so people don't forget the Games. I loved them especially Mo Farah!
Jodie, Swindon, England
Of course I would see it, the Olympics were so inspiring! GO MO!
Emma, Nottinghamshire, England
Tonight my sister, my dad and I are going to see it. I can't wait to see the long distance events like 1500m, because those are the ones I'd like to be in!
Tom, London, England
I am going to see it live and it's going to be EPIC.
Mia, London, England
I'm going to watch the the Anniversary Games, they sound cool. I'm going to be watching for Jessica Ennis!
Tilly, Bedfordshire, England
Yes I'll be watching it but it's my birthday so I'll be having a party as well.
Leanne, Kent, England
I really enjoyed the Olympics so I am going watch them.
Adam, Oxfordshire, England
You must ask your parent, teacher or guardian for permission before you send us a comment.
We may show your comment on this page or in our bulletins on the CBBC channel. We'll show your first name and which town you're from - but we won't use your details for anything else.