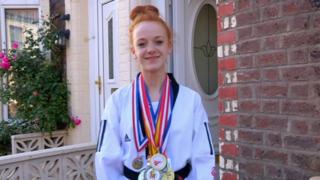 Generation Inspiration: Abigail
Rising taekwondo star Abigail is 14 and her ambition is to win gold at the Olympics.
She's doing pretty well already - she's the youngest member of the Team GB junior squad and she's just been selected to represent Great Britain at the Junior European Championships!
Abigail trains at her local centre in Liverpool. She said: "Since the Olympics we've seen more and more kids coming in and trying it out and saying, 'I want to be in the Olympics'."
The teenager works really hard - she runs every morning, and trains four nights a week as well as on weekends!