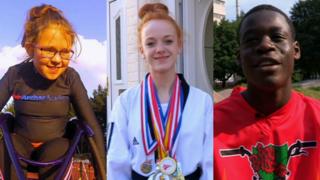 The London 2012 Olympics and Paralympics were meant to inspire a generation of children to get into sport.
One year on from the Games, Newsround has been finding out whether this has happened.
A survey commissioned by Newsround suggests that children are doing more sport after London 2012.
Check out these three kids speaking about being inspired for the Newsround special Generation Inspiration?
Yasmin's story
Thirteen-year-old Yasmin was born with cerebral palsy, which means her legs don't work.
Before London 2012, she thought people with a disability couldn't do sport, but the Paralympics changed her mind.
Watching wheelchair athletes Hannah Cockroft and David Weir inspired her: "You don't think, 'Oh they're disabled.' You just think they won or they did really well - you didn't think of their disability."
She's now started wheelchair racing and has even won her first medal!
Nathan's story
Nathan is 14 and from east London, home of last year's Olympics and Paralympics.
His BMX-mad mates grew up around the streets of Tower Hamlets, one of the country's poorest areas.
Nathan says the facilities are much better now after London 2012. He's captain of a BMX club which trains at a track that was built only because of the Games.
It helps keep kids in the area out of trouble. "The club's really important because if we weren't at the club, we'd be on the streets," Nathan said. "It's given us somewhere safe to BMX."
Abigail's story
Rising taekwondo star Abigail is 14 and her ambition is to win gold at the Olympics.
She's doing pretty well already - she's the youngest member of the Team GB junior squad and she's just been selected to represent Great Britain at the Junior European Championships!
Abigail trains at her local centre in Liverpool. She said: "Since the Olympics we've seen more and more kids coming in and trying it out and saying, 'I want to be in the Olympics'."
The teenager works really hard - she runs every morning, and trains four nights a week as well as on weekends!
These stories were made for Generation Inspiration?: A Newsround Special, which was first shown on CBBC on 25 July 2013.Watch the programme here on iPlayer.