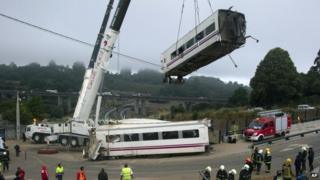 An investigation has been started to work out how a train crashed in north-western Spain, killing at least 78 people.
All eight train carriages came off the tracks near Santiago de Compostela.
Reports say the train may have been travelling at more than twice the speed limit around a curve.
It is one of Spain's worst ever train crashes. Spain's Prime Minister Mariano Rajoy has declared three days of national mourning.
He said: "Today is a very difficult day. Today we have lived through a terrible, dramatic accident, which I fear will stay with us for a long time."
It's OK to be upset by the news
The president of railway company Renfe, Julio Gomez Pomar, has said the train in the crash had no technical problems.
There were due to be celebrations to mark the annual festival of Saint James, but these have been cancelled.
Spain generally has a good record for rail safety and crashes like this are very rare.