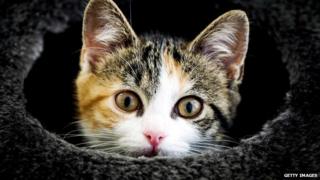 Scientists have discovered how allergic reactions to cats are triggered and hope it will lead to medicines to prevent the allergies.
Researchers from the University of Cambridge studied particles found in cat skin, which is the most common cause of cat allergy.
They've now discovered how the human body detects these, which can lead to people coughing and sneezing.
Cats are among the most common culprits for pet allergies.
Health charity Allergy UK says the research is "a big step forward" in understanding how cats cause allergic reactions.