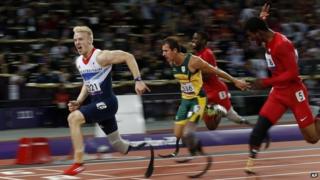 The London 2012 Paralympics were "more inspiring" for kids than the Olympics, according to a survey commissioned by Newsround.
Over half of the eight to 12-year-olds asked found the Paralympics the most inspiring.
The survey also suggests that the Paralympics also had a profound effect on children across the UK.
Nearly seven in 10 said that the Paralympic Games had changed the way they view disabled people, with only 20% disagreeing.
The survey also found that children are playing more sport since London 2012.
Newsround spoke to 13-year-old Yasmin, who was born with cerebral palsy, a condition which can affect your mobility.
She never felt like sport was something she could do and had never even attempted any before seeing wheelchair athlete Hannah Cockroft at the Paralympics.
She now does wheelchair racing and has even started winning medals!