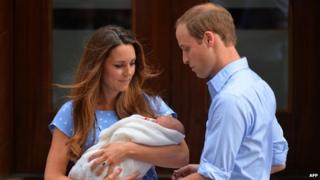 The Queen has visited the new royal baby on his first full day out of hospital.
She paid a half-hour visit to Kensington Palace on Wednesday where the Duke and Duchess of Cambridge stayed overnight with their newborn son.
The Queen already has two great-granddaughters but the new baby is her first great-grandson.
Other visitors have included Prince William's brother Prince Harry and the duchess' sister Pippa Middleton.
Now mum, dad and baby are thought to have now gone to the Duchess of Cambridge's family home in Bucklebury in Berkshire.
But so far there's still no word about what the prince's name will be.