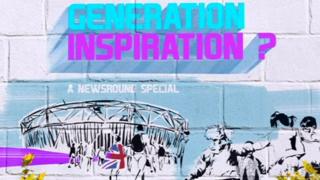 One year on from the London 2012 Olympics, how much sport are you doing?
A special survey for Newsround by the company Childwise suggests the London 2012 Games really have inspired more children to play sport.
More than half of the 1,645 eight to 12-year-olds asked said they now played more sport than before London 2012.
But the survey also found that 42% of children wanted to take up a new sport since the Games and weren't able to - with swimming and tennis the top two sports highlighted.
Eighteen per cent of those who wanted to take up a new sport gave a lack of local facilities as the reason they hadn't.
The survey also suggests that Mo Farah was your most inspirational Olympian, and that the Paralympics had a huge effect on children across the UK.
Newsround's special programme Generation Inspiration: A Newsround Special about the amazing kids who have been inspired by the Olympic and Paralympic Games is on CBBC Channel at 4.30pm on Thursday 25 July.
The survey carried out 1,645 online interviews with boys and girls aged eight to 12.
The online survey was completed in schools in England, Wales, Scotland and Northern Ireland by Childwise, from 4 to 28 June 2013.
What do you think?
Have the London Olympics inspired you to play more sport?
Do you play more sport now compared to before the Games? If so, which one(s) and why?
Or perhaps there's a sport you haven't been able to take up? What was the reason?
Sorry this chat has now closed, but check out some of your comments below.
Your comments
The 2012 Olympics inspired me to learn how to swim. Now I can swim under water without a float or armbands.
Aibrean, Tyrone, Northern Ireland
I have been inspired by the London 2012 Olympics. I now am a member of an athletics club and I want to be an Olympic heptathlete like Jessica Ennis when I'm older.
Sofia, Surrey, England
The Olympic Games didn't inspire me, but now I do enjoy sports more when I do play them. Also I did enjoy watching the games.
Sam, Swindon, England
Well, I already played lots of sports but it inspired me to do sport more often in the week and keep me fit.
Isaac, Southampton, England
Me and my bestest friend ever, Cal, had been interested in football for a while and had played a few times on the football pitch at school, but some boys said that football was a boys only event. Seeing the girls football team play inspired us to play. We then became part of a professional girls football team. We have now started to play tennis and cricket!
Orla, Derby, England
Tennis inspired me in the Olympics when Andy Murray won his gold medal so I joined a tennis club and played a mini tournament and came 1st. I did not realise I was that that good.
Thomas, Warrington, England
I would really like to start rowing as it inspired me over the Olympics last year but there is nowhere I can start the great sport.
Alice, Staffordshire, England
I love sport, the Olympics has made me work harder at running and in athletics. I am now training every week so hopefully one day I can be like Jessica Ennis and other sporting stars. But it is hard for me to train because there are not many places you can train.
Sri, Norwich, England
The Olympic Games have inspired me as I am doing swimming lessons every Thursday and some Sundays!
Amy, Deal, England
I used to only play football but now in school I have joined the hockey team and the athletics field team! I love sports!!!
Caitlin, Portsmouth, England
I never used to like sports but now I love it. I always thought PE was so boring but now I love it. The Olympics changed my life. I love running, swimming and lots of other things.
Emily, South Yorkshire, England
I love sport and when I heard the Olympics were in London I was so happy. A year on and I've now been to a world championship in kickboxing and I've taken an interest in tennis.
Becky, Cornwall, England
I haven't started playing more sport since the Olympics but I have started to appreciate the facilities my school has for sport and enjoy the amount we do, more than I used to.
Hannah, Edinburgh, Scotland
The Olympics inspired me to do taekwondo.
Evie, Bristol, England
I was inspired by the Olympics. I took up diving to be like Tom Daley in September last year and I am still doing it now. I am now doing level 3 and I like doing forward line ups from the 3m spring board.
Ryan, Hampshire, England
The London 2012 Olympics inspired me take up fencing after seeing it there.
Alice, Reading, England
I play a lot of football and I was inspired by the London Olympics to try harder.
Louise, Cumbria, England
I was very inspired by the athletic trio, Andy Murray and our cyclists.
Alec, London, England
The Olympics didn't really inspire me that much but it made me enjoy watching sports more.
Anna, Yorkshire, England
The Olympics really inspired me. I have now taken up tennis.
Louis, Wiltshire, England
I love swimming but if I want to go when I am not training I have to pay.
Imogen, West Sussex, England