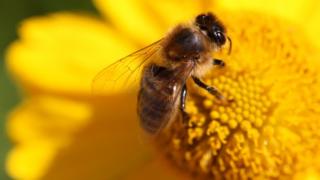 Scientists are training up bees to find unexploded mines in Croatia, in eastern Europe.
Researchers say the unlikely black and yellow heroes have a great sense of smell of explosives.
To train them, they're using sugar scented with the smell of TNT, a chemical used inside the mines.
Bee expert Nikola Kezic said: "Bees are suitable because they can be found in every country. The process of training bees to get used to a scent is very short."
Croatian officials think there is still around 466 square miles of land peppered with mines left over from the Balkan wars in eastern Europe in the 1990s.
During the four-year war, around 90,000 land mines were placed across the entire country.