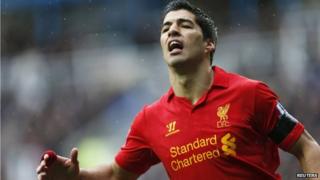 Arsenal have tried to smash their transfer record by offering £40,000,001 for Liverpool striker Luis Suarez, but that's been rejected.
The unusual bid of just over £40 million was designed to trigger a clause in the player's contract, but Liverpool have turned it down.
Under the terms of Suarez's deal, the club are duty bound to consider any offer for him in excess of £40m and then inform the 26-year-old of it.
It's the second time Liverpool have rejected an offer from Arsenal for Suarez.