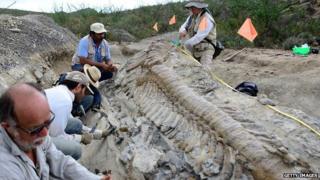 Getty Images
Archaeologists have discovered the rare remains of a dinosaur that walked on this planet 72 million years ago!
They have uncovered the tail which is a whopping five metres long.
Experts from the National Institute for Anthropology and History think it was a hadrosaur, or a duck-billed dinosaur.
The tail was the first ever found in Mexico and is unusually well preserved. It will be transferred to the city of General Cepeda for further investigation.