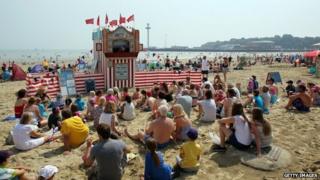 The UK is experiencing its hottest day since July 2006 as the heatwave continues, BBC forecasters have said.
Temperatures of up to 33.3C have been recorded in several parts of the UK, with the figure expected to hit 34C.
The highest UK temperature so far this year was 32.2C in south-west London, recorded last Wednesday.
But the hot weather is expected to give way to thunderstorms, with torrential downpours and potential flooding on Monday night.
South-east England is the hottest area, according to BBC weather experts, but other parts of the UK have escaped the heat - north-east England and south-east Scotland have been cloudy and cool.