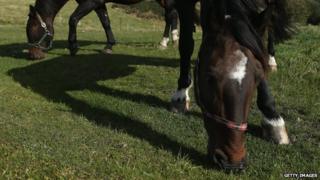 A woman has been fined for taking her horse into a McDonald's restaurant in Greater Manchester.
Police said the woman was in the saddle when she was turned away from the drive-through.
The woman then led the animal inside, where it "ended up doing his business on the floor", a Greater Manchester Police spokesman said.
McDonald's said it was unable to serve customers on horseback.
A spokeswoman for the company said: "The incident caused distress to customers and disruption for the restaurant, and the police issued the woman with a fixed penalty notice."
She added: "The health and safety of our customers and staff is our top priority, and for this reason we are unable to serve pedestrians, bicycle riders or customers on horseback through the drive-thru."