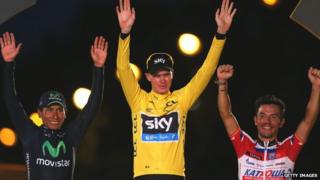 It's been a great summer for British sport, with Chris Froome winning the Tour de France and England doing so well in the Ashes against Australia.
And not forgetting Andy Murray winning Wimbledon, Justin Rose winning the US Open golf, and rugby stars the British and Irish Lions thrashing Australia on tour.
We wanted to give you the chance to shout about your top sporting achievements too - and you told us about your moments of glory!
Here's a selection of our favourites.
Your Comments
My top sporting moment is when I got my yellow belt at my last karate grading.
Lula, Brighton, England
My biggest sport achievement is when I beat my best friend who is better at tennis than me.
Sufian, Manchester, England
On sports day I came second in every race and I jumped 128cm when I did standing long jump.
Andi, Stratford-On-Avon, England
My biggest achievement was in the triple jump at town sports. I came third and at district sports I came second. I have only done it twice and I am doing it tomorrow at sports day!
Callum, Scarborough, England
My biggest sports achievement is when I played in a netball tournament and my team won!
Beth, Jersey, Channel Islands
This year I came 3rd in a district 800m race and I also beat my previous PB by 3 seconds! I got a bronze medal and I was very proud!
Belzy, Hertfordshire, England
My best sporting achievement was in December when I got my black belt in Tae Kwon Do after eight and a half years of training!
Mhairi, Inverclyde, Scotland
I won a cycling race.
Connor, Middlesbrough, England
I came 3rd individually in the district cross country race this year and my team came first. We all got gold medals!
Annabel, Hertfordshire, England
Winning a gold, silver and bronze in a swimming gala.
Nicholas, Belfast, Northern Ireland