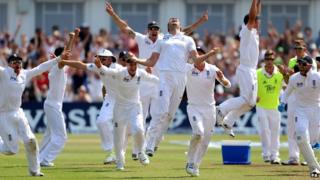 England's cricketers beat Australia by 347 runs at Lord's to take a 2-0 lead in the Ashes series.
Graeme Swann took the final Australian wicket to put England ahead in the best-of-five match series.
Man of the match, Joe Root, got 180 runs and narrowly missed out on a double century.
England captain Alastair Cook says: "We won't be taking anything for granted or taking our foot off the pedal. That is not how this England side works."