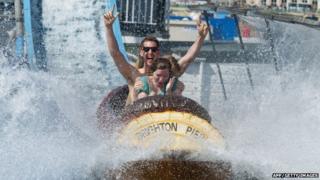 The UK heatwave is set to hit its highest temperatures on Sunday and Monday - before the arrival of thunderstorms.
Temperatures are forecast to reach 30C on Sunday and up to 34C on Monday in some parts of the country.
But from Monday evening to Wednesday, the high humidity will lead to thunderstorms and possible flooding.
The Met Office, who watch our weather, has issued a 24-hour rain warning for Tuesday.
The UK is having its longest heatwave since 2006, although Saturday was the first day in seven when temperatures did not top 30C anywhere in the country.