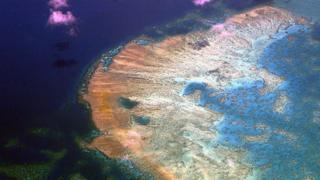 Four bombs have been dropped on Australia's Great Barrier Reef by American fighters jets, during a training exercise that went wrong.
The unarmed bombs didn't explode. They fell into water about 50m deep and away from coral to limit damage.
The planes were meant to drop them in a bombing range on a nearby island, but that was abandoned after hazards were reported.
The US navy said the planes were low on fuel and could not land while loaded.
The Great Barrier Reef is the planet's largest collection of corals and a Unesco World Heritage site.
It stretches for more than 2,000km along the north-east coast of Australia.