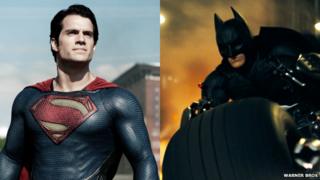 Two of the biggest superheroes - Batman and Superman - are teaming up in a movie for the first time!
It was announced by Zack Snyder, director of the latest Superman movie Man of Steel.
He said at Comic-Con in San Diego, USA, that the script was still being written. The film is set to hit cinemas in the summer of 2015.
Henry Cavill will play Superman again, but an actor has yet to be cast for the role of Batman.
Who would you like to see team up and why?
That got us thinking - who would you like to see pair up and why? We're talking movie characters, pop stars, TV celebs - let your imagination run wild!
Perhaps you think Harry Potter could show the Doctor in Doctor Who some magic tricks? Maybe you'd love to see One Direction sing with The Wanted?
Send us your dream duos now!
This chat page is now closed, but you can read some of the comments below.
Your comments
I would like to see Demi Lovato and Lady GaGa join up, as Lady GaGa would put a crazy but awesome spin on Demi's songs!
Simran, Braintree, England
I would like to see The Saturdays and The Wanted team up.
Kara, Reading, England
Doctor Who and Sherlock!! I think it would be really funny because the Doctor and Sherlock would either always be arguing or telling each other how smart they are!
Rachel, Shetland, Scotland
I think the Queen and PSY should collaborate to make a massive hit song, something to do with the Queen.
Svetlana, Brighton, England
I think Manchester United and Manchester City should join up to make the best team ever!
Lorcan, Grimsby, England
Lady GaGa and Katy Perry because they are both crazy and awesome!
Holly, Sheffield, England
I think Deadpool and Captain America should team up. They are exact opposites which would make it hilarious.
Tom, Inverbervie, Scotland
I think Miss Piggy and James Bond should appear on the big screen together because I've always thought Miss Piggy would make a great spy!
Iona, Comrie, Scotland
I would like the CBBC presenters and the Newsround presenters to join forces.
Jed, Croydon, England
I think Superman and Iron Man should team up because they're both super strong and could lift anything.
Eddie, Norfolk, England
I think Samsung and Apple should join together because they might make the ultimate smartphone!
Lucy, Devon, England
I'd really like Cristano Ronaldo and Lionel Messi team up! Just them two could beat any club you could think of!
Ryan, Rishton, England
I think that Spider-Man and Ron Weasley should team up as Spider-Man is really wild while Ron is a complete wimp!!!
Madeleine, Devon, England
I think One Direction and The Wanted should team up to make a really good song.
Zia, Scunthorpe, England
I would like to see Sadie J and Tracy Beaker join up, creating my #1 show!
Rowan, Bromyard, England
I think the One Direction should team up with Little Mix!
Ava Rose, Leeds
I'd like to see EastEnders and Coronation Street join forces!
Lizzy, Liverpool, England
I would like to see Spider-Man and The Incredible Hulk team up to fight Doctor Octopus and Sandman.
Ben, Torquay, England