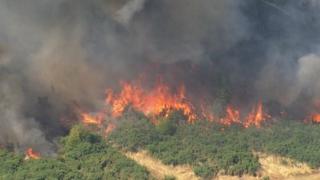 Heatwave warning about fires
People are being urged to take extra care in the heatwave to help stop wildfires from breaking out.
Cheshire Fire and Rescue Service's Gus O'Rourke said it's often down to carelessness.
He said: "Barbecues left unattended, disposable barbecues discarded after use, and glass jars and glass bottles can often cause fires - the sun's rays are magnified by the glass."
There have been hundreds of fires and he says they're are getting worse.