JLS singer-turned-farmer JB Gill is hoping to inspire more children to get into farming.
He told Newsround: "It's not taught in schools, it's not necessarily something you pick up unless your family comes from it.
"If by me doing something that, I suppose, is a bit innovative and a bit off-the-cuff - going into farming - can present that opportunity to people, then you know it's a job well done, it's a brilliant thing."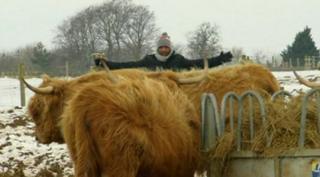 JB has bought a small farm in Kent and has chickens and a pig, but he wants to get more animals - and is already looking to buy another farm in Scotland.
So what made JB swap fame for a farm?
"I think it's a lifestyle really - it's a bit of a hidden enjoyment, being in the countryside, being outdoors.
"I really enjoy being hectic and being busy with JLS - it's nice to get outside of that and chill out when you've got a bit of time off."
JB has royal approval too! This month he became an ambassador for the Prince of Wales' Countryside Fund.
It's National Countryside Week from 22-28 July, with loads of events to raise awareness of the importance of the countryside.