People are being urged to take extra care in the heatwave to help stop wildfires from breaking out.
Cheshire Fire and Rescue Service's Gus O'Rourke said it's often down to carelessness.
He said: "Barbecues left unattended, disposable barbecues discarded after use, and glass jars and glass bottles can often cause fires - the sun's rays are magnified by the glass."
There have been hundreds of fires and he said they are getting worse.
Mr O'Rourke said: "We are very concerned at the moment. They're becoming more and more frequent."
His advice for people: "If they're throwing something away that has been on fire - a barbecue - just be a little bit more careful. Discard their waste properly and take stuff home with them. And if they see anything dial 999 straight away."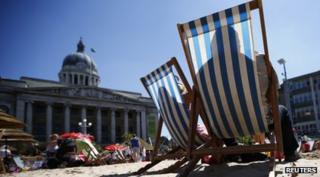 Reuters
The heatwave is continuing this weekend, with north-west England and western parts of Scotland feeling the most heat.
Weather forecasters say temperatures could hit 30C in those areas on Saturday.
The whole of the UK should see plenty of sunshine, but the east will be cooler - with temperatures falling as low as 17C.
Next week is set to get even hotter - the mercury could climb to the mid-30s!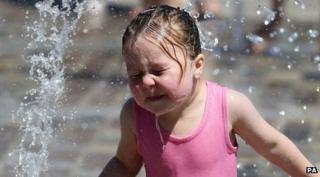 PA
Get advice on staying safe in water
People are also being warned to take care if they go swimming.
Chief Coastguard Peter Dymond said: "If you are heading out for a swim, check the sea conditions and remember that even though the sea may look calm on the surface, there is the danger of strong currents underneath."
He urged those using boats, canoes and kayaks to wear lifejackets or buoyancy aids.