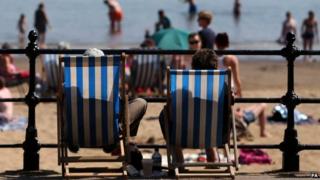 The heatwave in England is heading west - a level three heat health warning has now been issued for north-west England.
Similar warnings from the Met Office, who watch our weather, are already in place for south-west England and the West Midlands.
The warnings alert healthcare services to help those at high risk, such as the elderly and young children.
The level three warnings for south-east England and London have been reduced to level two.
Get advice on staying safe in water
Friday has been the hottest day of the year so far in Scotland, Wales and Northern Ireland.
Wildfires have broken out across parts of the country.
Around 60 firefighters have been working to put out a grass fire on the southern edge of Epping Forest in south London.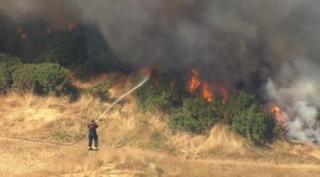 The UK is currently having its longest heatwave in seven years.
Forecasters say this weekend will be less hot - before temperatures go up again next week.
A level three warning is triggered when a certain temperature is reached in a region for one day and night - and there's a 90% chance it'll be reached again the next day.
The highest level is level four - that means a national emergency.