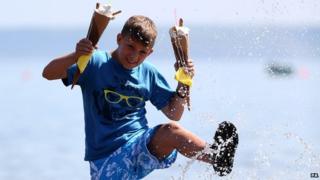 The UK is enjoying the longest heatwave for seven years - and temperatures topping 30C for the past week!
But while many of us are loving the sunshine, emergency services are starting to feel the pressure as the baking hot weather continues.
Fire brigades across England and Wales have been busy tackling grass fires.
There's also been a rise in ambulance callouts, with hospital staff saying many people are being treated for sunburn and sunstroke.
Level 3 heat health warnings have been issued by the Met Office in four regions of England.
Check out our top tips to keep cool in a heatwave
Still having fun in the sun?
Are you still loving the hot weather? Are you playing out in it as much as you can? Or are you melting in all the heat and cooling off indoors?
How are you staying cool?
Thanks for your comments. This chat page is now closed but you can read some of the comments below.
Your comments
I think the sun is great though my clothes keep on sticking to me and it feels weird at least it's the last day of school, yay.
Aysha, Bradford, England
I love it. I'm going to Blackpool today with all my friends - with lots of ice cream!!
Hasnain, London, England
I still haven't finished school yet - I know!!! - so it makes me very hot and sticky and I can't concentrate. But after school I just go and lie in the sun with a wet towel!!!
Olivia, Leeds, England
I am still enjoying the sun but last night I did my end of year show and in the hall it was baking.
Emily, Daventry, England
I prefer winter as you get to wear warm jumpers and get Christmas presents!
Harry, Blandford, England
I love the hot weather! But I saw my brother had a massive sunburn on his back! So now I'm getting worried.
Sophie, England