A giant tarantula that's 33 FEET wide has joined Chester Zoo - but don't worry, it's a robot!
It's one of 13 larger-than-life animatronic bugs in a new exhibition that lets visitors get extremely up close to creepy crawlies.
As well as spiders, there's a praying mantis and emperor scorpion!
The bug robots have been created by Billings Productions, the same US studio that built the zoo's robotic dinosaurs last year!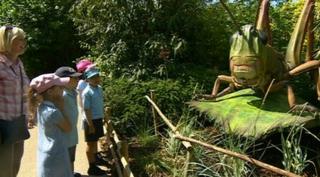 Travis Reid from the company said: "There's a lot of research involved. First we would bring in specimens and study those. Then we'd actually take a 3D scanner and then we'd blow them up from there. Then we'd go back and add clay for all the details."
There's also an important message behind the exhibition.
Adam Richardson from Chester Zoo said: "When people think of endangered species, so many people think of the big iconic species like the black rhino and the Asian elephants and we do conserve them here at the zoo.
"But we also have to look after the little things like these mini bugs - things like British fen raft spiders and the native Large Heath butterfly."
The exhibition is on until 3 November.