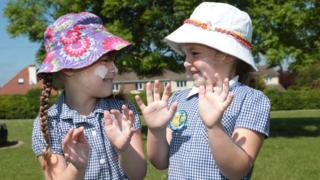 Heatwave warning for South East
The Met Office, who monitor weather, have upgraded their heatwave warning in parts of the UK, as temperatures are set to rise above 30C.
They've said it could reach "Level 3 heat-health watch criteria" in London and the South East.
Much of the UK has been basking in hot weather for more than a week.
But while the warm weather has been welcomed by sunbathers, sport watchers and barbecue fans, the heat can be dangerous for the very young, elderly and seriously ill.
Ricky has been out and about enjoying the sunshine... but he got some top tips for keeping safe in the sun while he was out there too!