There's no stopping the heatwave! Two more Level 3 heat health warnings have been issued - for south-west England and the West Midlands.
The Met Office, who watch our weather, put out similar warnings for London and south-east England on Wednesday.
The UK enjoyed the hottest day of the year so far on Wednesday - with 32.2C recorded in south-west London.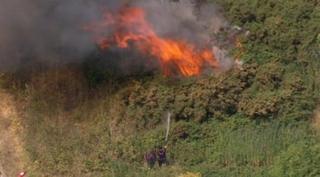 Firefighters in south London have been tackling a grass fire the size of about four football pitches.
Longest heatwave since 2006
The last time we experienced such a long heatwave was back in 2006.
We've now had six days in a row with temperatures topping 30C!
The hot weather is set to continue through the weekend and into next week.
Level 3 warning
A Level 3 warning alerts healthcare services to help those at risk from high heat, such as very young children and the elderly.
The highest level is 4, which is when a heatwave is so severe it becomes a national emergency.
Health officials are advising people to stay cool, have plenty of cold drinks and look out for others.
Four swimmers died in separate incidents on Tuesday.
The heatwave has also caused problems for drivers and rail passengers in parts of England this week, after road surfaces melted and train tracks were affected.