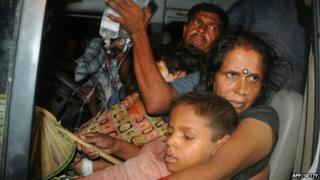 A lot of children at a school in India are seriously ill, and many have died, after eating a meal which was poisonous.
Officials in the Saran district say 22 children have died after eating the food.
It happened at a government school in the village of Masrakh, and the meal had been delivered there as part of the Mid-Day Meal Scheme, which is a project to provide free school meals.
Early investigations suggest the food had traces of a chemical called organo-phosphorus, which is usually used as a pest control.
Nobody can say yet how it ended up in the food.
Remember this is a very rare incident and you don't need to worry, but if you are upset by the news read our guide.