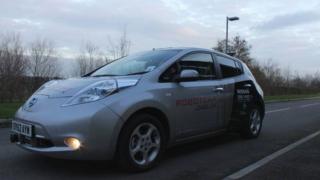 Cars that can drive without humans behind the wheel will be tested on public roads by the end of the year.
The driverless cars have so far only been tried out on private land.
They work by using a system of sensors and cameras.
Some experts believe the vehicles are safer and more efficient than regular cars.
Just to be safe though, a back-up driver will ride along during the tests in case of an emergency.
The cars are being tested by a team at Oxford University.
Prof Paul Newman, who leads the team, said he is excited by the public trials in the UK. "It's a great area to be working in because it's IT and computers and that's what changes things. The British government sees that engineering is important."
The driverless cars are being trialled in other parts of the world too, and in three US states - Nevada, Florida and California - they are already creating laws to cover how they can be used.