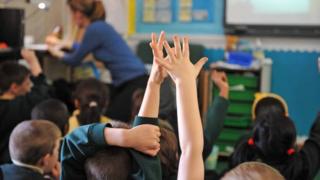 The government has announced new plans which could mean primary school children in England will start taking tests at a younger age.
It could also mean that all pupils from the age of 11 will be ranked on a national grading scale - this means every pupil would be put in different bands according to their achievements.
Deputy Prime Minister Nick Clegg and Schools Minister David Laws announced the plans as part of a big report into how education is run. The changes could be brought in to schools in 2016.
Nick Clegg said: "For children to achieve their potential we need to raise the bar - in terms of tests, pass marks and minimum standards. I am confident that primary schools and their pupils will meet that challenge."
But some teachers are against the plans, because they think the new system would upset some children and could put them off school.
Here are your comments:
I don't agree that there should be more tests because it can put students under more pressure, which isn't healthy. I for one feel under pressure when it comes to exams and I don't think it's fair that we have to go through more tests.
Amy, Kent, England
Why put so much pressure on primary school children to achieve? Yes, it may be good practice, but some parents will take them too seriously, upsetting their child. I would let children enjoy primary school and learn to appreciate their education, instead of having too many tests that disrupt their actual learning and fun!
Scarlett, Cornwall, UK
I don't like this idea because if you came bottom, it may lose whatever confidence you may have. I know I'd be unhappy if I found out I'd come in the bottom band of all 11 year olds.
Chloe, Wales
I think younger children should start taking tests earlier. If they pass, it's a big achievement for them, and if they fail, well at least they tried. I think only children who want to should be put on the national scale; in other words they should still have normal tests but the Government scheme should be voluntary.
Nellie Rose, Newcastle-under-Lyme, England
We feel it is not fair on everyone because it could affect friendships, as some people may be boastful and others may feel disappointed and want to give up trying. We do not feel this matches the values of our school. Every child matters and we are all equally different!
Robin and Wren Class, Lincoln, England
I think is a brilliant idea! Because children would get used to tests so when they start Junior School they will know what to do in the more serious tests. I would have loved to do them when I was in the infants because they are so much fun!
Alanna, Pontypool, Wales
I think that there should be more tests at primary schools because there are not a lot of tests at the moment.
Joseph, Andover England
I think new tests and grades shouldn't be brought in because it will be stressful and hard for children.
Amy, Sussex, England
I think that it's a good idea, but instead of having more tests the children should be educated and only have a few tests for the experience of taking tests.
Sophie, South Wales
I think there are enough tests - we get one or two every couple of months and it's stressful! When you get to high school it's reasonable, but primary school is too soon.
William, Scotland
Some of us think it is a bad idea, because if children get a bad grade then they might loose their confidence and give up altogether - it might make them feel embarrassed to be compared to others and it might put them off school due to added stress. The rest of us think that testing is a good idea - some children might respond well to knowing their grades and where they stand compared to other children. Regular testing might encourage those children, especially if they make progress.
John Ball School, London, England
School isn't a competition, it is a place for achieving your own personal best. We feel that children might give up on learning if they find things difficult. If we need to test, it should be on effort, not ability.
Oak Class, Somerset, England
We don't think it's a good idea to know your levels and to be compared to other schools and children. If you aren't very good at something you might feel down and give up on it.
Hip Hop Class, London
I don't think it's fair to grade children against each other because each child is different so they may progress slightly differently.
Scarlett, Sleaford, England
I think tests should be more challenging because I want to work hard and revise lots.
Callum, Watford
In Ireland we do lots of tests in 2nd class (year 3) and even more in our last year, 6th class (year 7)
Cian, Dublin, Ireland
I think it will make children stressed and i also think we should have more education and less tests!
Alison, Ireland
I don't think it's a good idea as it shows out the not so clever kids and there's no reassurance the kids won't find out.
Nathaniel, East Sussex, England
Tests will put children off school and will make them stressed. They don't really show the true potential that we have because some people might not cope with time pressure and peer pressure.
Nia, Dorset
I think there should be simple tests starting from year 1 so children get an experience of taking tests.
Rithica, London
I think it is ridiculous having to be compared to your friends. I am terrible at maths and there are quite a few people good at maths in my class. I already feel down that everyone else is better than me, it is unimaginable how I would feel if they changed it.
Katie, East Yorkshire, UK
I found that going from year 2 to 3 that there was a massive upheaval in the tests we were getting so I think that years 1 and 2 should have more tests.
Theo, Reading, England
I think it will make school much more stressful.
Anice, York, UK
I think it's a good thing but try and not make it hard.
Dylan, United Kingdom
I think it would be really hard to learn and think with knowing that you are going to have loads of tests.
Elissa, Shrewsbury
I think that we should do more tests towards the end of primary school to get us set for high school, but I don't think the lower years should have tests because they don't understand why they are having it and it might get them tensed up and stop them from coming to school.
Trinity, Birmingham, England
It's not fair for the children who aren't as smart in primary school because they might be smarter for high school.
Michael, Isle of Man
I think it will be good if you could compare but if you have less than them it will mean you get stressed.
Maddie, Essex, England
I think that there should be new grades and that there should be more test for younger students. The older ones have their tests more often and they count towards more. The little ones should have practice and should get an experience.
Connor, Essex, England