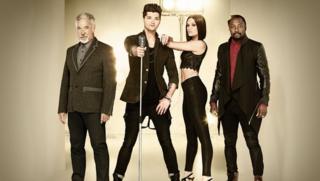 Danny O'Donoghue will not be returning to The Voice, he has announced.
The Irish singer, who won the BBC1 show this year with his contestant - Andrea Begley, is following in the footsteps Jessie J, who recently announced she was leaving.
He said that he will not be back as coach next year because of recording commitments with his band The Script.
Now only two judges - Tom Jones and Will.i.am - are left.
Danny said: "I had two wonderful seasons on The Voice and as everybody knows I gave it my heart and soul and couldn't be more proud of the show and what we have achieved.
"My focus will be on The Script moving forward as we are about to embark on the most important part of our career as a band."
Mark Linsey, BBC controller, entertainment commissioning, said: "Danny has been an absolute star - and a winner - on The Voice but we understand that he, like Jessie, has to focus on his music career and The Script have such an incredibly busy year ahead.
"The Voice coaches are all current music stars with recording and touring careers to manage alongside the show and we know this can be difficult to juggle. We are very sorry to see Danny go but wish him and the band the very best and hope they will come back and perform for us next series."
The BBC said that the full coaches' line up for the third series will be announced soon.