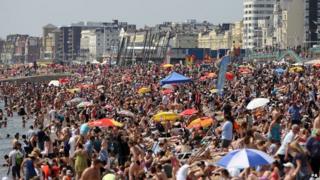 Motorways have melted, trains have been suspended, beaches have been packed full, and now forecasters say the heatwave is set to stay - but for how long?
Experts at the BBC weather centre said the high temperatures look set to last at least another week.
They said forecasts show that southern England is likely to stay very warm, but parts of Northern Ireland may get a little unsettled with cloud and some rain.
Melting motorway
On Saturday, the highest temperature in the UK this year, 31.4C, was recorded at Heathrow near London.
On Sunday afternoon a section of the M25 was closed after the road surface melted.
Holiday sunshine
The hot spell of weather will last into next weekend, which for many of you is the end of term and the start of the summer holidays.
Forecasters say some areas in the south of England and parts of Wales could hit 30C, while most areas will see temperatures in the mid to high 20s.
Retailers report booming sales in things like barbecues, garden furniture and paddling pools, and supermarkets say their sausage sales have gone through the roof. (Not literally of course!)
One supermarket said it sold 3 million sausages and 1.4 million burgers last weekend alone.
Amber warning
The Met Office - who forecast the UK's weather - has issued a heatwave alert for the East Midlands, East of England, south-east England and London.
The Level Two yellow alert means there is a high chance that a heatwave will occur within the next few days.
There are four levels of response, based on maximum daytime temperatures - ranging from 28C in north-east England to 32C in London - and a minimum night temperature of 15C.