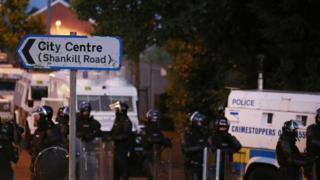 A police officer has been injured during a third night of trouble in north Belfast. Officers were attacked with petrol bombs and missiles in the Woodvale area.
It follows serious rioting that started on Friday night when 32 police officers and an MP were injured.
Clashes developed after police stopped a march by loyalists - who want the country to remain part of the UK - passing through a nationalist area of the city, where many people want to be part of the Republic of Ireland.
An additional 400 police officers from around the UK have been brought into Northern Ireland to help calm down the situation.
You can find out more about the history of Northern Ireland in our guide.