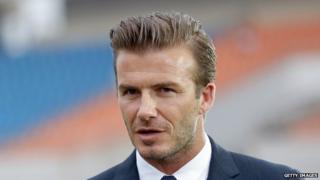 David Beckham has suggested a name for the royal baby - David!
The football star, who was at Prince William and Kate's wedding in 2011, said he thinks the couple will be 'amazing parents'.
Beckham became friends with Prince William when they were working to try to bring the Olympics to London.
In an interview with Sky News he said: "They're going to be amazing parents because they are so loving towards children.
Chat: What should the royal baby be called?
"We've seen William grow from that young boy into an unbelievable gentleman. And that as a father is really important."
He even helped out the couple by suggesting a name for the new royal arrival.
"David's pretty good ... if it's a boy of course," he recommended.