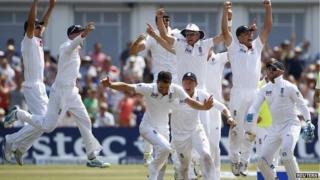 The England cricket team are celebrating their 1-0 lead in the Ashes.
They beat Australia by just fourteen runs in the first Test in Nottingham.
There was a bit of controversy over the last wicket of the game: Australian batsman, Brad Haddin, was initially called not-out by the umpire, but that decision was overturned when England called for video technology to be used.
Bowler James Anderson was England's hero, and was named man of the match.